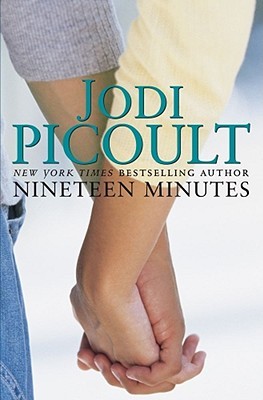 Synopsis (from Goodreads):
Jodi Picoult, bestselling author of My Sister's Keeper and The Tenth Circle, pens her most riveting book yet, with a startling and poignant story about the devastating aftermath of a small-town tragedy.

Sterling is an ordinary New Hampshire town where nothing ever happens--until the day its complacency is shattered by an act of violence. Josie Cormier, the daughter of the judge sitting on the case, should be the state's best witness, but she can't remember what happened before her very own eyes--or can she? As the trial progresses, fault lines between the high school and the adult community begin to show--destroying the closest of friendships and families.

Nineteen Minutes asks what it means to be different in our society, who has the right to judge someone else, and whether anyone is ever really who they seem to be.
My Thoughts:
I have only read two other Jodi Picoult books (Salem Falls and My Sister's Keeper). I liked both books but they weren't books that made me want to read everything she ever wrote. I happened to pick this book up from our Little Free Library (a community box of books that you can swap). I could not put this book down because I had to find out what really happened.
Peter Houghton is the boy that everyone picks on in school. He has been teased and bullied mercilessly since the first day of Kindergarten. The book begins with him entering his high school and shooting students and staff. From there, you begin to get an insight into who Peter was and why he did what he did. Is bullying ever an excuse to murder? Absolutely not! However, with that being said, I can honestly say that this book made me THINK. It made me think about how awful high school can be for some kids. How judgmental the kids there can be and how kids so desperately want to just fit in. It was heartbreaking to me, as a mother of two boys and one girl, to read what Peter went through on a daily basis.
I enjoyed how we saw the story through Peter's eyes as well as Josie's, the parents of Peter and the mother of Josie, the defense attorney and the detective. I think that it helped to understand everything that happened and not just that Peter was bullied. I felt like I really got to know the characters as well as their history in this book.
I did not like Josie one bit. She was friends with Peter up to a point and didn't care what others thought of her. Then she gets popular and she just turns into a horrible person, in my opinion. She knows that the things her boyfriend and his friends are doing to Peter are wrong on so many levels and yet she won't do anything at all about it because she is so scared of losing her popularity. She stays with a boy who abuses her because he is one of the most popular boys in school. Then there is the twist at the end that I can't tell you but that clinched it for me. I did not like her.
This book hit me emotionally on many levels. There has recently been a school shooting at a school in my state (Marysville-Pilchuck High School) and I immediately thought of this book and the emotions I felt while reading it. It's so heartbreaking on so many different levels and for every single person involved. I think this book made me open my eyes a little and look at things in a slightly different way. Before I would always just say what a sick individual it was that shot up a school (and I still think that...because anyone who would do that has serious mental health issues and it is not excusable for any reason) but now I think a little more about the shooter and why he or she would do it. Again, not saying that it is acceptable for any reason but it makes you really wonder what went on behind the scenes. It makes you THINK and I believe that that makes the book worth reading.