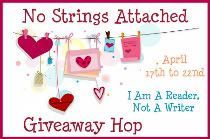 This hop is hosted by Kathy at
I Am A Reader, Not A Writer
. This hop is for all the people who hate jumping through hoops to enter giveaways. This is a no strings attached, no requirements to enter hop. I know that I hate a giveaway that requires 500 different things to do and a lot of the time I won't even try so I really liked this idea (although I always appreciate new followers).
Up for grabs here is your choice of one of the three books listed below:
Inside Out (Inside Out #1)
Maria V. Snyder
Brand new
Deadly Cool (Deadly Cool #1)
Gemma Halliday
ARC Copy
Paranormalcy (Paranormalcy #1)
Kiersten White
Hardback copy, gently read one time
One winner will get to chose the book that they want and just let me know. I have read Deadly Cool and Paranormalcy and you can find my reviews under my "Reviews by Title" tab. I have not yet read Inside Out but have an extra copy to give away. I hear it's really good though!
Fill out the rafflecopter below (just contact info required) and then hop on to the other sites. Remember, all these giveaways have no strings attached!