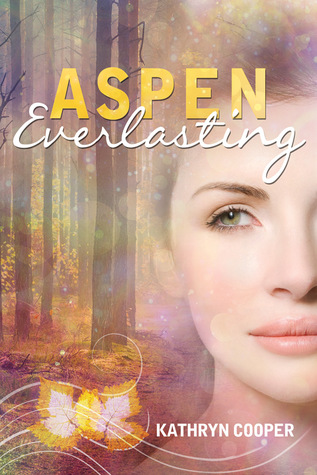 Synopsis (from Goodreads):
Water splashed on all sides then took control of the tires. The car swerved right toward the river.
"No. NO. NO!" I turned the wheel toward the road. It didn't work. Fast running water pulled the car into the flooded river.

Aspen Foster thinks she's just a normal sixteen-year-old, but when her car's caught in a flash flood, Aspen and her sister discover the superhuman strength they never knew they had.

Soon Aspen learns she's not normal at all. She's an Evermortal fairy, with powers beyond her wildest dreams. But the more Aspen finds out about her family's past, the more dangerous her future becomes.

This riveting fantasy is full of action, adventure, and romance. Suspenseful and exhilarating!
My Thoughts:
Aspen and her sister, Willow, are caught in a flash flood with two of Willow's friends. As the car is sinking, Aspen and Willow both find some inhuman strength and kick open windows and well as throw Willow's two friends an incredible distance to safety. Both are very surprised by this strength but chalk it up to adrenaline (we've all heard of the parent who has lifted a car off their child or some story along those lines) so it's not too hard to believe. At least, it's not too hard to believe until the next day when they both still have this incredible strength. When their brother, Ash, also exhibits the same strength, the teens decide to go out and look for their parents (a park ranger and nature photographer) to get some answers.
The answers that the kids' parents have for them are unbelievable. They are Evermortal fairies that are in hiding from the queen. They learn all this quickly as they are on the run from the queen's henchmen so they don't have much time to get all the details but Aspen certainly has a lot of questions.
After arriving safely home, Aspen gets a few more answers from her parents. Evermortals age more slowly than humans and her parents are really much older than they thought, as are their grandparents. Evermortals are incredibly good looking as well. Aspen isn't sure how to deal with these things or let her crush, Nate know. Until she finds out that Nate is also special. She also finds out that there are more Evermortals in her town than she knew of.
Now Aspen has to figure out what other secrets her parents are hiding from her (and there are many more) and try to stay safe, which is hard to do when you don't know which people are your friends and which ones are your enemies.
This was a fun and quick book to read. I love that it was a clean read (some kissing between Aspen and Nate but that's all) and I would totally feel comfortable with my daughter reading it. The only thing that was a little off for me was how quickly the kids accepted what they were. Aspen certainly had questions for her parents but if my parents told me that I was a fairy, my reaction would not be as easy going and accepting as Aspen's and her sibling's reactions were. Aspen also put herself into danger a couple of times that was unnecessary. I understood her need for information but sometimes she just wasn't thinking at all.
All in all, this was a fast paced read full of excitement and a little romance. The end tied up nicely but left things open for possibly another book. I really enjoyed it!
**I received this book from the publisher for an honest review**