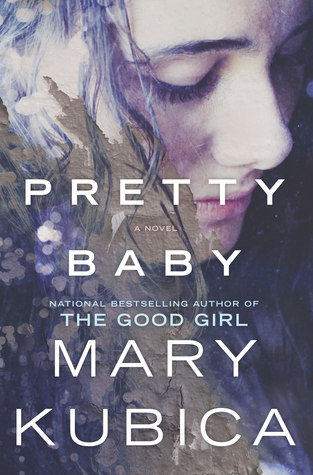 Synopsis (from Goodreads):
She sees the teenage girl on the train platform, standing in the pouring rain, clutching an infant in her arms. She boards a train and is whisked away. But she can't get the girl out of her head...

Heidi Wood has always been a charitable woman: she works for a nonprofit, takes in stray cats. Still, her husband and daughter are horrified when Heidi returns home one day with a young woman named Willow and her four-month-old baby in tow. Disheveled and apparently homeless, this girl could be a criminal—or worse. But despite her family's objections, Heidi invites Willow and the baby to take refuge in their home.

Heidi spends the next few days helping Willow get back on her feet, but as clues into Willow's past begin to surface, Heidi is forced to decide how far she's willing to go to help a stranger. What starts as an act of kindness quickly spirals into a story far more twisted than anyone could have anticipated.
My Review:
This past summer I read and LOVED The Good Girl so I was pretty excited when I got my hands on this book. However, I was a little disappointed in this one. It definitely was not up to par with The Good Girl.

Heidi is always trying to help people. She is married to Chris and has a 12 year old daughter, Zoe. Heidi's dream was to have a large family but a bout with cancer derailed all those plans. Heidi's husband, Chris, is an investment banker. He spends a lot of time at work and on different business trips. Zoe is a very angry 12 year old. She hates everyone and everything. Zoe's attitude reminded me more of a 15 or 16 year old's attitude. I thought it was strange that she was only 12. I have an 11 and a 13 year old and neither of them act anywhere close to that (maybe I'm just lucky?) yet. I don't know but it just didn't ring true to me.

Heidi sees Willow, a young, homeless girl with a baby one day at the train station. She then makes it her mission to take the girl and the baby in to help them. Chris, understandably, has a problem with this. Who takes in a homeless girl and her baby with NO information about them. From this point on, I really disliked Heidi. She did not care at all about her family's safety. She has a 12 year old daughter and she just brings in this stranger and expects her husband and daughter to be okay with it and also for her daughter to let Willow "borrow" some clothes.

From this point on, it is hard to tell you about this book without giving away some major spoilers. So I will just tell you that I really didn't like Heidi. She obviously has some serious issues that need to be dealt with and towards the end, her attitude towards her daughter is ridiculous. She completely ignores her, forgetting to pick her up after soccer practice, forgetting to attend her soccer games or pick her up from them or make her dinner. You will find out what is going on with Heidi but I still didn't like her.

Chris was so busy with work that he was hardly home but with a wife like Heidi, I kind of don't blame him. Once Heidi brought Willow in, Chris was more involved for the safety of his daughter but was still gone a lot. At least he had a little common sense though. I actually really liked Chris.

Willow was a sad and complicated character. Her story was heartbreaking to me and I could completely relate to the things she did. That's not to say she made the right choices but you could understand how her mind was working.

I thought the book was a little slow through the beginning and middle. It was one that I was easily able to put down and do other things and not pick up for a day or two. Once I got towards the end though, I could not put it down at all and ended up staying up late to finish it. I was disappointed in the ending because I had so many questions left over. What happened to Matthew? What happened to Heidi and Chris and Zoe? So many unanswered questions...

So, this was definitely a good book but not the best. If you like psychological thrillers, I would recommend this. Just know that the conclusion will leave you with many unanswered questions.