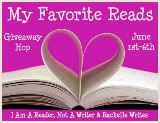 For this giveaway I have to give away one of my favorite reads. So, I am going to give away a hardback copy of
Paranormalcy
by Kiersten White. You can read my review
here
. I loved this book and read it in one day. It was funny and full of adventure. Definitely one of my all time favorite YA books! So, fill out the Rafflecopter below and enter to win this fabulous book!
Synopsis (from Goodreads): Evie's always thought of herself as a normal teenager, even though she works for the International Paranormal Containment Agency, her ex-boyfriend is a faerie, she's falling for a shape-shifter, and she's the only person who can see through paranormals' glamours.
But Evie's about to realize that she may very well be at the center of a dark faerie prophecy promising destruction to all paranormal creatures.
So much for normal.
a Rafflecopter giveaway
Now hop on over to the next blogs participating in the hop!