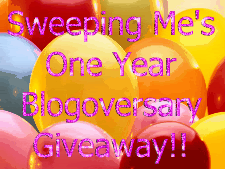 One of my favorite blogs,
Sweeping Me
, is having her one year blogoversary! She is giving away your choice of a Kindle Touch or a $100 giftcard! Nice huh? I mean, who wouldn't want a Kindle? Or if you already have one a giftcard would be awesome too!
So, head on over to Sweeping Me's blog and look around. It is seriously a fun blog to visit! Then enter to win...or better yet, don't enter to win so I have better chances! :) Just kidding...maybe.